For the past several weeks I've been using a great vegan alternative to
emu oil
called
GREEMU
from
Devonian
. I have heard good things about emu oil but haven't had a chance try it, so this review was a great opportunity for me!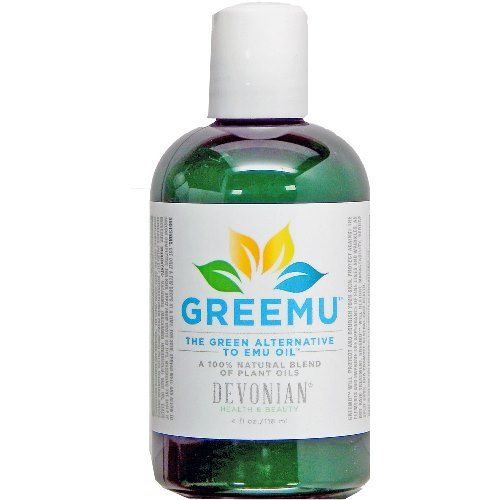 What is GREEMU?
Emu oil is obtained from the fat along the back of the bird. It is supposed to have some wonderful benefits.
GREEMU
oil is a green alternative. The scientists at Devonian have researched and created an alternative to emu oil that matches the lipid profile but uses only plant oils and butters. This is a great choice for people who prefer to avoid animal ingredients.
The oils used in GREEMU are madacamia seed oil, sustainably grown organic palm oil, shea butter, sunflower seed oil, and rice bran oil. These oils each have some wonderful properties and combined they make a very nice moisturizer for the skin and hair. I won't even try to explain the scientific stuff behind the oil analysis so I suggest reading the
What is GREEMU
page on their website if you are interested.
How did we use GREEMU?
Devonian suggests using this oil for skin and hair. I tried it for both and found that we really like this oil. It does not feel greasy unless I put too much on, and a little goes a LONG way! The macadamia seed oil in GREEMU does not clog pores, and I did not find any problems with clogged pores after using this oil repeatedly.
My skin, especially on my face, feels dry and tight after I shower so I would put a tiny bit of GREEMU on the tips of my fingers and massage it in. It helped my skin feel better and prevented the flaky dry skin I sometimes get. I have a tendency to have dry skin on my hands during the cool, dry months. This oil has helped my skin without the greasy feeling that most moisturizers leave.
I have dyshidrosis, a form of eczema (also called housewife's eczema) that gets worse in the warm months and leaves itchy bumps and dry cracked skin on the hands. If my hands are dry and cracked in the winter and spring, I will have a worse summer. I haven't had this flare up recently so hopefully I will be able to prevent that this summer, and GREEMU should help!
In the past I had read a blog post about using emu oil as a carrier for a specific mixture of essential oils. This would be applied to the scalp in areas where the hair is thinning, with the intent of helping the hair follicles grow healthy hair again. I do have a couple of thin spots so I thought I'd try the essential oil blend with GREEMU. I am not nearly as consistent as I should be with this, so I can't say that it helped for sure, but I do see short hairs growing there! Because this area is thin I have to be careful going out in the sun, and sometimes those spots on my scalp get dry and flaky. I found that the oil helped prevent this dryness on my scalp, and the surrounding hair looks healthy.
My youngest had one of those annoying spring colds, the kind where she had to wipe her nose 100 times a day. Poor kiddo, the skin around her nose was so dry and red! I started putting GREEMU on it and it was noticeably better the same day. As long as I kept putting the oil on a few times a day, it did not get the usual red chapped look and she didn't complain about her nose hurting too much to wipe it clean. Yay!
The oil is an opaque white color. It is just the right thickness... easy to spread but not as thin as water. There really isn't a smell to it. I was surprised at how much I enjoy using this oil. Usually oils feel oily on the skin, this is one of the few I've tried that feels pleasant and rubs in easily.
We've used this for dry skin including on feet, on the hair, as a facial moisturizer, and as a carrier with essential oils, and have been pleased with all these applications.
GREEMU
is a wonderful oil to keep on hand, whether avoiding animal products or not!
Where to find GREEMU