My children love creating and art, and were excited to try this new kind of paint.
The Pencil Grip, Inc. sent us a Kwik Stix 12 pk pl
us a pencil grip and sample Kwik Stix to review. I told my preschooler these were coming and I wanted to see how she might use them. She paced the floor until the delivery truck arrived!
I think they have magnetic properties because when the package was opened, all the children came running and haven't left them alone since. I haven't been able to prove the magnetic theory though...
What are Kwik Stix?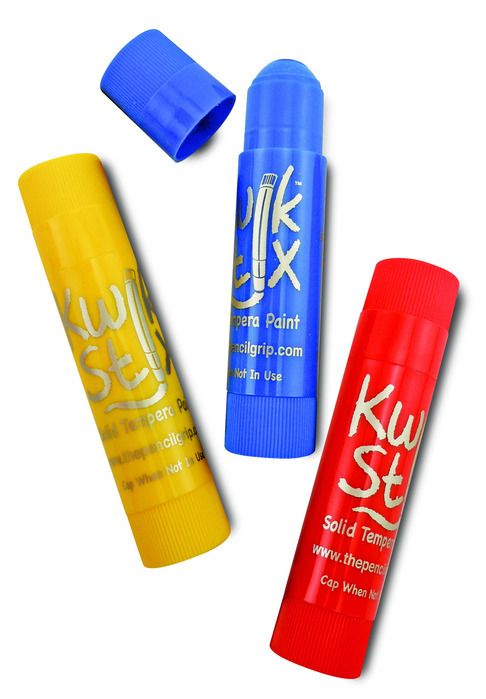 Kwik Stix
look like a glue stick but they are full of solid tempera paint. To apply the paint, just rub the stick on paper, cardboard, wood, or canvas and let it dry! The paint dries in 90 seconds. These little paint sticks are pretty amazing, I've had to try them myself a few times because they are so fun and fascinating to use. We received the 12 count Classic colors set
.
The company also has 6 packs in Classic, Metalix, and Neon colors, as well as a 96 count classroom pack! The classic colors include quite a variety, as shown in the image below.
The Pencil Grip, Inc.
also sent us one of their pencil grips to try, the
Pencil Grip Original
. This grip is not too hard and not too soft, it's a little bit squishy and fun to hold. My preschooler claimed it as hers and held it correctly right away, it feels natural for her to use. Before using the grip, she would often pinch the pencil with two fingers and a thumb, and while watching her write it was obvious that the pencil slipped, so she would pinch even harder. This new pencil grip prevents that, it helps her hold the pencil in the proper tripod grasp.
How did we use Kwik Stix?
Every time my kids bring me a paper they've painted with Kwik Stix I rub my fingers over it, expecting it to feel like a crayon, but it doesn't! It feels smooth like the paper, I can only feel a difference if there is a lumpier area of paint. I expect it to flake off like some paints would, but it doesn't go on that thick. Yet they do lay down bright, vibrant colors. They paint well on manila folders (one child used them to decorate a lapbook) and construction paper.
Everyone wanted to paint pictures with the Kwik Stix.
We had an art lesson about Michelangelo painting the Sistine Chapel. Kwik Stix were the perfect paint to use for this project! Can you imagine letting kids use drippy paint and brushes while painting the "ceiling"? It's no fresco, but this was a lot of fun because we had nifty paint sticks to use.
I caught someone doing spelling practice with Kwik Stix.
We are doing geography reports on Pacific islands. Part of their report will include a poster board display of information. Kwik Stix are perfect for this as well, and save me money because permanent markers dry out so fast when coloring on poster board! Here are the beginnings of their posters, 2nd graders at the top, 5th in the middle, and 7th at the bottom.
We tried painting a wood block to see how Kwik Stix worked on wood. The paint took a little longer to dry, maybe 2 minutes, but it may have been painted a bit heavily. I like that the colors don't bleed together much when they are applied right next to each other.
With 4 kids from preschool to 7th grade we usually end up with messes when we paint. We haven't had a single mess or paint-on-clothes incident with
Kwik Stix
. (Hooray!!) If any gets on hands, it washes off easily. Since I'm a mom and my grown-up fun consists of laundry and cooking, I decided to do an experiment. The t-shirt below shows Kwik Stix that I painted on, left for 2 hours, then washed it (no stain remover used). I imagine if (somehow) this paint did get on clothing and it was washed right away it wouldn't leave a stain!
Washing test... but the paint was left to dry for 2 hours first.
These are so much fun to use. My kids continue to think of more ways to use them. We will have to keep stocked up on this new art supply!


Where to find Kwik Stix:

Twitter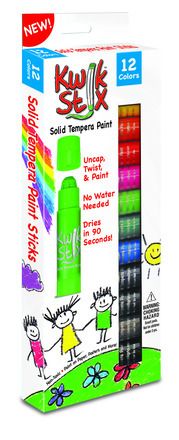 The Pencil Grip, Inc. has offered one of my blog readers their very own Kwik Stix 12 pk!
a Rafflecopter giveaway