We like to continue working on math over the summer so a review opportunity for
LearnBop for Families
came at just the right time! Don't be fooled though,
LearnBop
is a great way to support math during school as well. It's like having a math tutor in the home! LearnBop has been available to schools for some time, but LearnBop for Families is a new program.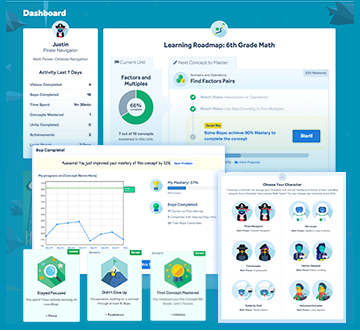 What is LearnBop?
LearnBop is a website you log in to. You don't have to download any software or apps. We received a subscription to
LearnBop for Families
with a 12 month Family Plan. With the Family Plan I can set up 4 students, plus I am able to use the program to sharpen my math skills as well! There are two different ways to set up what the children will work on through the program, both are called roadmaps. The website is intended for grades 3-12 but can be used by 1st and 2nd graders too.
Grade roadmaps - the child will progress through appropriate skills for their grade level. These roadmaps start at grade 3 and go all the way through high school. This is similar to a grade level math program.
Subject roadmaps - Does your child need help with measurement & data? Expressions & equations? Choose the subject they need to work on! These start at grade 1 and go through grade 8. They are intended for helping a child get caught up, but can be used for 1st and 2nd graders.
Both types of roadmaps begin with a warm-up to determine what the child needs to work on. Once their needs are determined, the child works through Building Blocks which help them learn and master concepts, watches videos which teach the concepts, and complete Bops. Bops are math problems. If they encounter a Bop they don't know how to do they can watch the appropriate video. You can change the roadmap any time.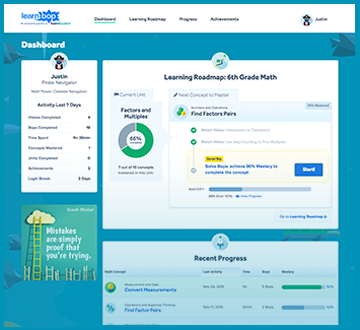 The children get to choose a character for their avatar and they earn badges for their accomplishments and progress. The child can always see their own progress. My kids like seeing their accomplishments as well as their login streak. The parent account has a dashboard where I can see the children's progress, accomplishments, and what they are currently working on. The graphics are fun and the web pages are well organized. I found the site quite easy to figure out how to use.
How we used LearnBop:
My two oldest children have been using
LearnBop for Families
5 days a week. They just finished 7th and 5th grades. They found out that when they watch the teaching videos they earn more accomplishment badges. But they don't have to watch the videos to complete the Bops (my son had 20 videos for one lesson!) and are not penalized if they don't watch the videos.
J says - "A lot of the stuff it has me do I already know. It's pretty easy to understand the videos and teaching, but sometimes the voices have really strong accents so it's hard to understand them. Some kids would probably like it. I think it's good for teaching math that kids don't understand. I really like doing it for summer math."
My oldest was working on a Bop one day and was sure she had done the work correctly even though the program said the answer was incorrect. I sat with her to see if it was a mistake in the program or in her work (some other Crew members did find mistakes in the program). It was really neat, the website took her through the problem step by step, explaining each step and asking her to solve that portion before moving on. Eventually we found that she had just forgotten the final step and that's why her answer was incorrect. We did encounter two mistakes on the site, though one was just a simple grammar error, and the other a spelling error.
M says - "It is easy to use, it explains the things that I already learned if I get it wrong. It has a couple of videos to explain one concept, so you learn it in a few different ways. Then you can find which one makes the most sense to you. It's good for everybody because you can put it in your grade level and it will teach you on your level."
My third child, E, who just finished 2nd grade, has been using LearnBop but not as frequently as the others. She has done well with the program, but she prefers working through her regular math books over online work. LearnBop will be a great alternative when she struggles with a concept or when she just wants a change of pace.
E says - "LearnBop helps you learn things better. It is easy to understand because it has lots of examples, it has you practice it a lot. For the Bop, if you get it wrong and you need help with it, it can give you step by step help. I like using it."
I like how user friendly
LearnBop
is for kids and for parents. The achievements and statistics posted have been helpful for keeping my kids engaged, and remembering to work on math daily. It worked on our Windows 10 computer, our newer Android tablets (it did not work on our old tablet with Android 4.0), and Chromebook. I could even use the program on my Android phone, though the LearnBop site recommends PCs or tablets. I am glad we've had this program to work on over the summer, and we will continue using it when the school year starts for additional
math help
.
Video
Bop
Where to find LearnBop: