What is the Notebooking Pages Lifetime Membership?
NotebookingPages.com
is a wonderful website that offers thousands of premade notebooking products to download and a very helpful tutorial email series. There are two levels of membership.
Free Membership: You receive access to 600+ pages of samples and some other free printables. Also included is the notebooking tutorial email series.
LIFETIME Membership: You receive access to all of the free resources plus all current AND future products! (There are thousands of pages, the site has been going since 2006!)
Let me start with the email tutorial series. We already use a curriculum that employs the notebooking method for the majority of our school subjects. I felt sort of comfortable with it, but things just didn't go as well as I expected. The email tutorial series goes through 4 simple steps to help you implement notebooking. The step about how to use narration really helped me out, it was our missing link! We already did narrations, but things have gone
so
much better since we began doing narrations this way!
Using the notebooking method has already proved itself in our homeschool, and access to
NotebookingPages.com
has further enhanced our learning. Children remember so much more when they personalize their work. Recording what they've learned in this way helps cement that information. Finished work goes into the children's 3 ring binders. They LOVE looking back over what they've done and showing it off to anyone who will listen!
Teacher's Reference Guide
There is an Easy Start Guide that you will find once your
LIFETIME Membership
is activated. It suggests building a teacher's reference guide. I printed out all 4 tutorials, the Table of Contents pages, and most of the Preview Catalogs and spiral bound them (they even suggest using the exact spiral binding machine I own!) I can see how this would be unnecessary for some people, but I'm a very visual person and this has been perfect for me.
The Table of Contents pages list what topics are included in each download. The Preview Catalogs show thumbnails of the pages so you can see which format would work best for each child or topic you are studying. For instance, my preschooler would draw more pictures than my 5th grader, so she got a page that was mostly boxes to draw in. My 5th grader got a page with more lines to write on and smaller boxes for visuals. It is very easy to go find which pages I want on the website because they are organized by subject then category.
There are topics like animals, sports, character study, alphabet, holidays, famous people, history, mapping, Latin & Greek, geography, and
plenty
more. The many blank pages available can also be used for copywork.
Preview Catalog on the left and Table of Contents on the right
Some pages have color images, some have line drawings. Some pages are blank so you can use them for any topic. Some of the blank lined pages have colorful or themed borders. The amount of pages included in the
LIFETIME Membership
is amazing, there is SO MUCH to work with! I had to get out a paper to make notes of what topics we could use now and what we could us soon. (We began this review about 3 weeks before we finished school.) I already have a list of what to use next year. We've had opportunities to use pages this summer too!
Right after I received my membership we had a lesson on William Penn. He's got his own set of Notebooking Pages! I followed what I had learned in the email tutorials about narrations, using writing and visual components, and this is what we ended up with. The kids were so proud of their work!
7th grade
5th grade
Take a look at my son's page. He wrote on ALL THE LINES! On past assignments I would be lucky if he wrote four lines to remember the lesson. This wasn't a one time thing... while using
NotebookingPages.com
the way suggested in the tutorials, he produces work like this all the time.
2nd grade
When we finished our study of botany we made a visit to the local botanical gardens. We looked at all the plants and practiced identifying them according to what we had learned. We took colored pencils too so we could draw what we saw. We stopped a few times and sat quietly and reflected on the the beauty around us. Everyone was given a couple of Notebooking Pages to record their thoughts and findings. They all wished I had brought more!
When we finished our study on the founding of the 13 colonies we created a timeline page with a description of significant events and people. We used a blank timeline page for this.
5th grade
There are also 3D pages to download. These include components for making smaller pages, like matchbooks, mini books, and tab pages to attach to certain Notebooking Pages. This was a great way to individualize small bits of information on the papers we made while studying the Pacific islands.
Some other pages we've used from
NotebookingPages.com
:
Blank sheets with music notes and borders for recording our thoughts about the composers and specific songs we studied this year.
Pages for Australia, the Solomon Islands, and blank geography pages to use for Vanuatu and New Caledonia. We had people who lived in these places do a presentation for us about these countries. Later we wrote down what we learned.
Pages for Hawaii, New Zealand, and blank ones for Easter Island that we included while preparing our Pacific Island reports.
Famous Artist pages for Titian, Botticelli, and Giotto. There are also pages with each artists paintings to do a picture study. Those were a fun addition because we were examining paintings as part of our lessons.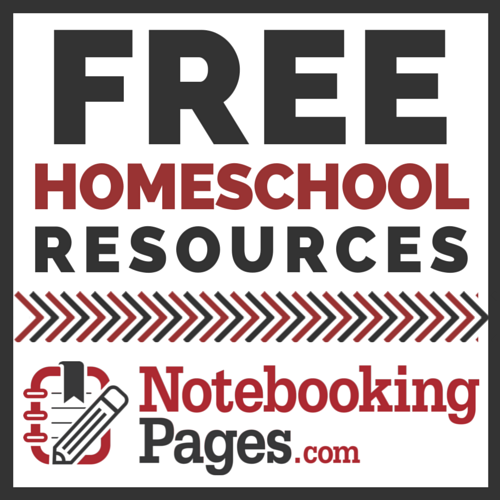 I would recommend the
LIFETIME Membership
to every homeschooler. My kids have enjoyed using these pages and I appreciate having so many ready for us to print and use. The amount of content provided is exciting, every time I use the website I find more pages we need to use! If you're not sure, please check out the sampler with the free membership!
NotebookingPages.com
even has an installment plan for the Lifetime Membership. This website is truly a treasure trove for homeschoolers!
Where to find NotebookingPages.com: