This is so exciting!
Heirloom Audio Productions
recently released, and asked us to review, our favorite G.A. Henty story in audio theater form, The
The Cat of Bubastes
! If you follow my blog on Facebook you already saw just how excited my children were to receive this CD set.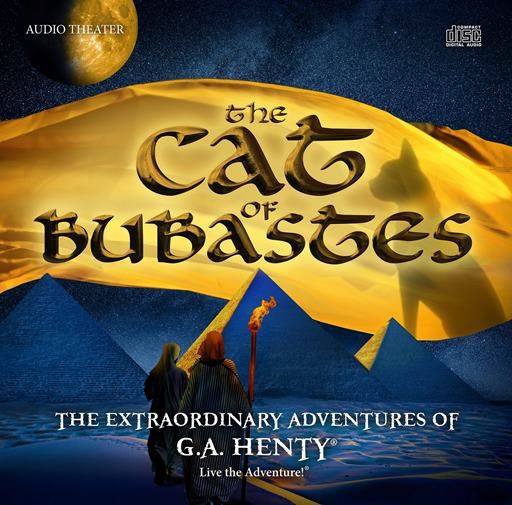 What is The Cat of Bubastes about?
This is the first G.A. Henty story that we read. I love G.A. Henty's works, so full of history, good morals, and excitement. But the stories are hard for kids to understand and read. There is a lot of advanced vocabulary. We first read this novel 3 years ago and I remember stopping every few sentences to explain some words or clarify what was happening. My children fell in love with the story though, and we enjoyed the challenge (and brain building)! This audio theater production gets the listener engaged in the story right away because it is simplified and exciting.
This story is set in ancient Egypt. A young prince and his guardian are captured by the Egyptians after his father is killed in battle, and taken to be slaves in Thebes. The family he lives with is very kind and he becomes good friends with the son. The daughter's cat is soon picked to be the next sacred cat, and many discussions of religion and the one true God come about. A very unfortunate accident happens, and the children must flee the city to save their lives. Will they survive? Where will they go? Will the young prince ever fulfill his destiny and be king of his people? There is even a surprise character... Moses appears in this story!
You'll learn interesting bits of history such as how the Egyptians dealt with neighbors and captured cities, what priests did, why some animals were sacred, bits of information about mummification, and more.
What can I expect from Heirloom Audio Productions?
Heirloom Audio Productions
takes a G.A. Henty story and makes it easier to understand as well as engaging to listen to. This is not a reading of the original, but a retelling in audio theater form. There are many people who provide voice talent for this production, names you probably recognize!
We received a 2 CD set along with a bunch of downloads. The PDFs and MP3s we were able to download are included in the Family Four Pack.
Official Soundtrack - The audio behind the story as it's being told.
MP3s of the production - My kids put these on their MP3 players and SD cards so they can listen to the story at any time.
Inspirational poster of 1 Chronicles 17:20.
Promotion poster that shows the cast and cover of the CD case.
G.A. Henty's original book with full color graphics added, as an e-book.
e-book
Complete Study Guide and Discussion Starter - This is a full color e-book and creates a complete curriculum from the story, with learning guides and Bible studies. We put this on our tablets and Kindle e-ink readers, though you could have it printed as well.
Access to the Live The Adventure E-Newsletter - Extra articles and lessons to bring Christian history to life.
Behind the Scenes Documentary - You can watch this online or download it. It's fun to see how they make these dramas!
The Study Guide is such a nice benefit to have access to. It helps the listener understand the story better and encourages comprehension as well as abstract thinking skills. It turns the story into a curriculum with suggestions of extra activities and items of interest to study. The Defining Words sections build children's vocabularies. The Bible studies help children learn to search the scriptures and better understand teachings in the Bible.
Study Guide
My children are in 8th, 6th, 3rd grades, and Kindergarten. They all LOVE this story and can't get enough of it! They did notice a couple of items from the original book were not included in the retold story, but that just gives you more reason to read it as well as listen! I hear quotes from this production daily, and if the kids are doing chores or cleaning their rooms they are listening to The Cat of Bubastes while they work. It really is THAT good!
If you have never listened to an audio theater production by Heirloom Audio before,
The Cat of Bubastes
is an excellent one to start with! It's full of adventure for all ages to enjoy. The downloads are nice to have, providing extra music to listen to as well as inspirational posters, and the Study Guide makes a great unit study for anyone interested in ancient Egypt. There are multiple purchase options, from a Family Four-Pack, to a single CD, to an MP3 download so you can find an option that works for you.
Where to find Heirloom Audio Productions: