It's hard to catch someone without a book in their hand around here. My daughter and I had the opportunity to review
The Secret Bridge
from
Lamplighter Publishing
recently. What a great book! Lamplighter Publishing says they aim to develop "Christlike character one story at a time." I understand what they mean after reading this book.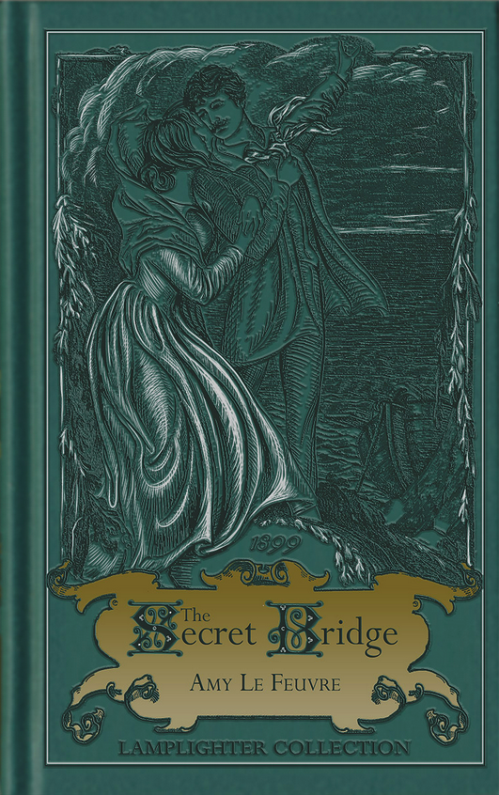 The Author:
Amy Le Feuvre wrote The Secret Bridge in 1899. Lamplighter Publishing publishes rare books from the 17th-19th centuries in what they call The Lamplighter Collection. I hadn't heard of this author before and a quick search discovered she lived from 1861-1929 (I later found that in the book too!) I could not find this title in lists of her works, but did find a book called Bridget's Quarter Deck that fits the description of this one.
The Book:
The book does not claim to be abridged, and the publisher includes a note in the book explaining that they have kept grammar and spelling rules as true to the original format as possible, editing only when necessary. The book itself is beautiful, a hardcover overlaid in a soft blue material and embossed with parts of the image painted. There are a few black and white images in the book and embellished letters beginning each chapter. When scriptures are referred to or a word is used that might not be used today, there is a footnote sharing the reference or definition. I would say this is a good book for ages 12 and up; 10 if your children are book lovers and don't mind looking up or asking about a few uncommon words!
There are some pages in the back of the book describing Lamplighter's Mission and more of their products, including a list of some of their books and the ages they are appropriate for. The last page includes the Flesch - Kinkaid grade level and all the pages that contain biblical insights, plus character traits in the book.
The Story:
The 261 page story begins aboard a ship where we meet Bridget, a girl who has just lost her father and is going to live with her uncle; and Godfrey, a sailor heading home and waiting for his orders. Bridget is quiet and shy, yet bold and well educated. We soon learn how likeable she is and that people gravitate towards her as she attempts to be a peacemaker among her neighbors and friends. Godfrey is easy going and liked among all who know him. He is used to getting his own way in a persuasive, amiable manner. Later in the book he is described as a "knight of old".
Once Bridget gets to her uncle's house, she discovers her living situation isn't going to be what she had expected. She is determined to take care of herself though! Godfrey has fallen in love with her and wants to help her. Bridget soon discovers how helpless she is in this new city, and falls for Godfrey too. But because he has gotten his sailing orders, he must leave without a chance to set their new life in order.
There is an ancient family feud that Bridget discovers has separated the folks in the area where she now lives. Because of her new marriage, she is expected to take a side. Bridget's nature and the direction her life is taking make this seem impossible! In the midst of all her trials, Bridget desires to know God, and seeks his comfort. The story takes many twists and turns, and there is always something else that comes up that makes the reader wonder just how much Bridget can handle!
The book is about a love story, but it is very clean and pure in it's portrayal. I did not mind my young teen (8th grade) reading this book, and even encouraged my 6th grade son to read it.
The Moral:
Lamplighter Publishing describes this book as one that "
...encourages us to become more acquainted with Christ, waiting for Him as a bride awaits her bridegroom, and falling more in love as we read His letters and eagerly anticipate His coming.
" While I see how this does fit the story, I felt more that the story fit the scriptures found in Moroni 7:45-47 (also found in 1 Corinthians 13:4-7):
And charity suffereth long, and is kind, and envieth not, and is not puffed up, seeketh not her own, is not easily provoked, thinketh no evil, and rejoiceth not in iniquity but rejoiceth in the truth, beareth all things, believeth all things, hopeth all things, endureth all things.
Wherefore, my beloved brethren, if ye have not charity, ye are nothing, for charity never faileth. Wherefore, cleave unto charity, which is the greatest of all, for all things must fail—
But charity is the pure love of Christ, and it endureth forever; and whoso is found possessed of it at the last day, it shall be well with him.
I couldn't help but feel like Bridget was striving to develop all the characteristics described in these scriptures. She admits that she wishes she knew God, and another character in the story helps her on her path to becoming acquainted with Him. In fact, the first time I read through the book I found The Ladder of Faith that Bridget climbs so intriguing that I read it a second time just to take notes on her journey. We all have trials of faith, and those who desire to progress and become closer to God know that this can at times be a difficult journey. The symbolism of climbing a ladder felt encouraging, so I decided to draw it out as explained in this book.
This book is entertaining, thought provoking, and faith building. The plot twists were humorous at times (if you can't laugh at life, the alternative of crying isn't as enjoyable!) Yet the book allows the reader to examine where they are on their own Ladder of Faith and encourages one to keep climbing. It is a book I enjoyed so much that I will read it again and again.

My 8th grade daughter also read this book. She felt like it started slowly, but she was unable to put it down after she was a few chapters in. As usual, she read it in two or three days. She has a couple more thoughts to add, "the story is really fun, and I like the plot twists - it really grabs your attention. I like how the book described her conversion, and the guy that wasn't a preacher (Jocelyn) never forced her to learn or do anything, he just gently guided her along the path. The book itself has a pretty cover, with all its decorations it looks inviting."