My two older children have tried making stopmotion videos in the past, so they were really excited to do this review.
Stopmotion Explosion sent us
their
Stopmotion Explosion Animation Kit
to review and learn more video making skills.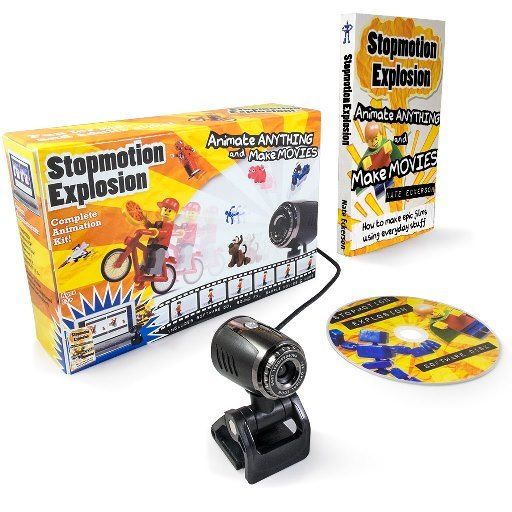 What is Stopmotion Explosion?
The
Stopmotion Explosion Animation Kit
by
Stopmotion Explosion
comes with a quick start guide, an instruction book, software, and a webcam that also takes still images. With the quick start guide it was easy to begin making movies right away.
The book,
Stopmotion Explosion Animate ANYTHING and Make MOVIES
, starts with the history of making movies and moves into techniques like lighting, set design, actors, cameras, creating stories and scripts, composition, and editing. It mentions Lego Minifigures but suggests other toys to use as well. It even gives instructions for how to make your own armatures for actors using wire, wood, and clay, and lists many household items that can be used for creating sets. There are some fun sections in the book about flight, fighting, and sound effects.
Information about various webcams is included as well as using camcorders and DSLRs. Instructions are given for Mac and Windows. Various software is discussed throughout the book such as Celtx, iMovie, Windows Movie Maker, Adobe Premier, and more, in case you have them. I was surprised and pleased at the wide range of information in the book. It gives basic information so younger kids aren't intimidated to start making movies right away, but also includes advanced information for those who are serious about stopmotion. We had a couple of questions and hiccups but as we flipped through the book everything was quickly solved.
Stopmotion Explosion Animator software
The software included comes on a CD (with instructions to download if you prefer) and includes the company's own program, Stopmotion Explosion Animator, and an audio program called Audacity. Stopmotion Explosion Animator makes it very easy to begin - just install, point the camera, and start taking pictures. The software takes care of keeping the images in order and adjusting how long each is shown in the final video. Audacity allowed us to record voices and sound effects. We could record each alone and then put them all together. We didn't get into more than the basics, so there's a lot of advanced capabilities of this program that we haven't tried.
Audacity software
The Webcam included has manual focus and resolution of 1280 x 720. It has a built in microphone and is compatible with other commonly used video chat programs. It has a neat clip to attach it to a monitor that folds and allows it to stand alone.
How did we use it?
The day this arrived, my son took off with the instruction book. He couldn't wait to read it! He was the most interested in learning how to make his actors fly.
Opening the package.. he was excited!


My two oldest children, in 5th and 7th grades began working on their first video right away. The Quick Start Guide was very helpful and didn't take too long to read through.
The night we received this - planning characters, reading the Quick Start Guide, and installing software.
They soon realized they needed better lighting and scrapped that first project. They did their best for the next project but we don't own very many lamps... only two are pointed at the "set" in this first video. My oldest read the book a little more in depth when it came to doing the audio and merging it with the video.
I love how the genie rises out of the ground! Very creative. They were proud of their sound effects, when one of the Lego guys drops the wrench. This video took them a little longer to do, they were learning about the software and kept going back and redoing things.
I helped them a little for their next video idea. We set it up where there was more natural light, but still used the two lamps, and focused the camera a little better. I suggested that they have their actors move less for each image so they would end up with more frames, and a slightly longer video.
This video took them an afternoon on a Saturday to do. I love that they can do something so quickly and be satisfied with the results.
Will we continue to use it?
They have more ideas and want to try more advanced stuff, and I am sure they'll be putting more work into future videos. This summer is going to be a good time for that! My younger two have video ideas as well, and I wouldn't be surprised at all if my 8 year old figured out how to create her own video. This kit is so fun to use I found myself thinking of my own video ideas but resisted because I wanted to see what my kids could come up with on their own for this review.
One thing that was frustrating to my kids is that we still had to use Windows Movie Maker to merge the audio and video. When we upgraded to Windows 10 we lost that program, and we had hoped the software that came in this kit eliminated the need for it. It didn't, so we downloaded it again. We have used it in the past to do the animation for stopmotion videos, so when the kids had it again they quickly remembered how easy it was to use and decided they like it better for setting frame rates. But they do think the Stopmotion Explosion Animator software is a better way for beginners to learn how to create videos, especially when using a webcam. The instruction book is a wealth of information and they are always referring to it! This summer when I hear "It's too hot to play outside!" I'll ask them how their videos are coming along.
Where to find Stopmotion Explosion: