We're the kind of family that prefers games over electronics so this has been a fun item to review. We have found the
Solar System
FlipStir Puzzle from
Enlivenze LLC
very addicting!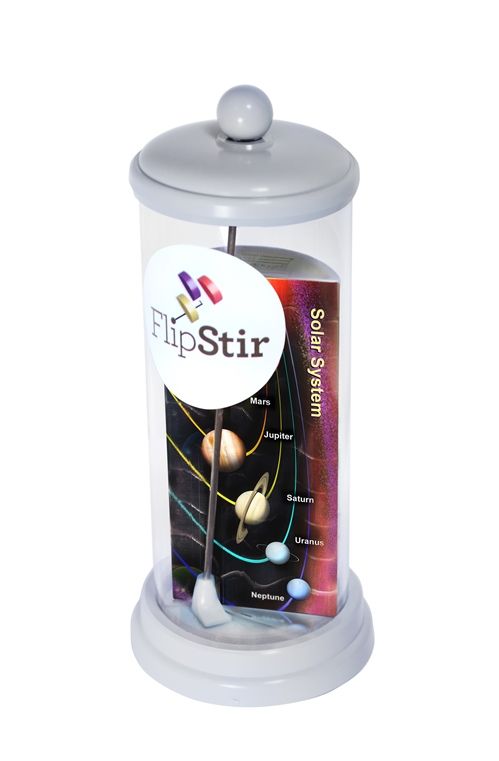 What are FlipStir Puzzles?
The FlipStir Puzzle is a self contained plastic puzzle. We received the Level 2
Solar System
Puzzle. Because the pieces are contained in the clear plastic tube, you can't loose them! But because they are stuck in there, it takes some thinking and patience to assemble the puzzle. There are two levels available at this time. Level 1 puzzles have flat pieces. Level 2 puzzles have wavy pieces. The pictures look more difficult to assemble on some of the Level 2 puzzles. The clear tube feels tough and the entire game is well designed and sturdy feeling.
How do you do a FlipStir Puzzle?
The name says it all, you have to flip and stir the pieces! First you mix the pieces up, tipping and shaking so it's not too easy to reassemble. The metal stick inside has a small foot on the bottom to help put the puzzle together. The pieces need to slide across each other and be arranged in the right places. There is a picture of the completed puzzle on the bottom in case you need help. The Level 2 pieces are wavy so they kind of lock together (not tightly by any means!). The waviness can help if they are in the right order, but it's bothersome if they are not!
Is it tricky?
The suggested age is 7 and up. My kindergartner couldn't solve it, which I expected, but she had fun trying. My 8 year old is in most of these pictures, and was the first one to try the puzzle. She finished in 30 minutes! My older kids finished in about 10-13 minutes each, and I was able to do it in about 7 minutes. There is some strategy involved in manipulating the pieces around inside the tube. The little foot is helpful to push, pull, and hook pieces to maneuver them in the correct place. We discovered that it's helpful to use the curve of the tube to push pieces up and around so they can lay on top of others while you slide and flip them into place.
Even though we all figured out the puzzle fairly easily, it wasn't boring on the next try. Once you mix it back up it's just as tricky again! You learn tricks to solve it when you attempt repeatedly, but it's still entertaining. Our Solar System puzzle helped the kids remember what order the planets go in...no one wanted to look at the reminder picture!
FlipStir Puzzles would be a great toy to bring on long car rides, to the doctor's office, and for any time the kids are bored. My children suggested that kids who need to keep their hands busy would like these, and that they are good for using your mind or to help your mind work better. You can race someone to see how fast you can get it done. A couple of my children said they want to save money so they can purchase other puzzles!
We're glad that we got to review this item, I would not have found something so unique otherwise. It has been a lot of fun to play with and everyone enjoys it!
Where to find FlipStir Puzzles: