We have wanted to learn Spanish for a LONG time. When the opportunity came up to review
Foreign Languages for Kids by Kids
I couldn't pass it up! My children were just as excited, we have family members who speak Spanish and we've wanted to learn this language so much!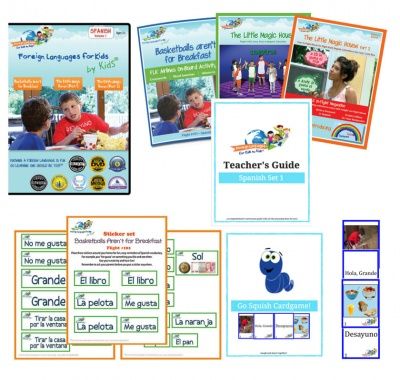 What is Foreign Languages for Kids by Kids Starter Set 1?
We received the Foreign Languages for Kids by Kids
Starter Set 1
. (I will refer to this as FL4K.) This set is for children ages 5-14. My youngest turned 5 a few weeks after we began the review. My other children's grades are K, 3rd, 6th, and 8th.
The Starter Set 1 consists of:
1 DVD containing Levels 1-3
3 Parent-Teacher Guides (one for each level)
3 Workbooks (one for each level)
3 sets of Flashcards that are also used for games (one for each level)
Stickers for the three levels
This program is so easy to use! You can watch the DVD and learn a lot of words and phrases and how to use them. But if you implement the lesson plans included in the Parent-Teacher Guides you'll learn much more and gain a greater understanding of the language!
The 3 levels on the DVD are presented as in-flight movies to watch as you travel to a Spanish speaking country. You will follow a family throughout their day. The 3 brothers are quite entertaining! The videos are about 10-15 minutes each, but you don't watch them all at once if you are using the lesson plans (more on that later). They are filled with hints and repetition to ensure that the viewer understands the words. There are many items in the videos that are labeled but not spoken. Some of these words are taught in later levels. But you can learn more words by watching for these labels! The videos are done very well and looked clear on our large HDTV. There are some portions where the audio is a little soft or echoes, but overall they are very nice.
The Parent-Teacher Guides outline the methodology for the program and give you tips for how to implement it in your home. They also include the lesson plans. Some things included in the lessons are: Watch a portion of the video, about 3-5 minutes worth. Talk about what you've learned. Play a game. Do a workbook page. Place stickers for the words you've learned. Read page # to learn about the country, idioms in Spanish, or culture. Repeat the lesson a few times this week (we repeat until I'm sure the children understand and can use the words).
Not every lesson includes all of those things.
There are also many different games in the lessons. Some use the flashcards and some involve acting out words. I must stress how much we've learned from the lesson plans. They are well thought out and provide entertaining reinforcement to the videos.
The Workbooks provide a lot of fun and reinforcement as well. These are your "in-flight magazines". They go over what you've learned in the videos and allow the children to see and write the Spanish words. They include instructions in Spanish and English, so you can learn more words by figuring out the sentence structure. They also teach a few things not in the videos.
I speak a little Spanish. I've been speaking (and gesturing) to the children in Spanish when we do the workbooks and at other times, (hopefully) helping them to get better at understanding more than what is in the videos. The workbooks present a lot of opportunities for this. My one concern is that not all of the workbook pages are included in the Lesson Plans, so we didn't know when to do some of the pages. They are not done in order either, so it gets a little confusing.
We received one set of workbooks, and quickly found that won't work for 4 kids. I would suggest buying a set of workbooks per child. There is a copyright notice that prohibits copying the pages, we put the book in a dry erase sleeve so each child could have a turn. We did not review it, but there is a digital version of the workbooks that would be helpful for families with more than one child!
Half of the Flashcards are images grabbed from the videos. The other half are the words for each image. Each level contains a few cards that are the key, in case you don't know which picture matches with a word/phrase. The set comes with instructions to play Go Squish, which is similar to Go Fish, but with a Squisher the International Inchworm (and FL4K mascot) theme. We also use the cards for games in the lesson plans. Because they are images grabbed from the videos (and some of these images are used in the workbooks) they are not always clear pictures, some are kind of dark and fuzzy.
The stickers list words that are taught in the lessons. There are 3 pages of stickers per level. The stickers were a bit confusing, there were more words than we covered in the lesson plans so we didn't know what to do with some of them. But the ones we did use were helpful. One day my kids walked around with stickers on their shirts that said hermana, hermano, and camiseta. We put stickers on an apple, an orange, the shoe rack, and the dog's crate. My youngest set up a tray of play food including eggs, an apple, milk, and toast, and placed the desayuno sticker on it. When FL4K first arrived at our house I wanted to see how easy the stickers were to remove, so I stuck the sticker that says la puerta on our coat closet door, which is painted with white latex. I removed it before publishing this post and it came off cleanly. Other stickers came mostly off of wooden toys, but not plastic or metal... they stuck and tore, leaving residue. The sticker on the outside door of our house didn't come off easily either.
How did we use FL4K?
We would gather around the TV and watch one lesson. Then we would do one or two of the items in the lesson plan. Our daily practice didn't take very long, only 10-15 minutes. The guidebooks suggest working on the lesson 3x a week. We did them almost daily because my kids were constantly begging to do more Spanish! They would complain when I said we were done, they always wanted more! (I have a firm belief in stopping while they are still hungry for more, whether it's learning or reading.) We progressed through the lessons at a good pace, not too fast, and not slow enough to bore anyone.
I noticed starting in the second level that some words are shown on the screen but not spoken after being introduced. So I started to read the words so my youngest would know what was being taught. She told me "Mom, you don't have to read to me. It already told us what the words are and I can see the pictures. We learned that 'a' is for girls and 'o' is for boys." She then proceeded to say everything printed on the screen in that lesson (amiga, amigo, amigos, hermana, hermano) without error. Well then.
We did just about everything in the lesson plans! I can really see the value of the reinforcements included there. Some of the games involve placing a rope/tape/hula hoop on the floor then including various people in it or out of it and practicing words we've learned. Saltar (to jump) is taught early on so we jump in and out of the hoop. My kids enjoyed the game where we place flashcards around the room then ask where they are and answer in Spanish.
I LOVE the lesson plans, especially the games. My youngest has invented more games too! We were driving and she said, "Ahí esta una casa grande!" She then turned it into a game of, "Dónde esta una casa grande/pequeña?" which allowed us to practice the words for small and large, here and there. One of my children now has stuffed turtles named grande and pequeña.
We are just getting into different forms of verbs, such as I have, you have, she/he has, etc. These are introduced a little at a time so they are not confusing. Starting in level 2 there are a few pages in the workbook that helps the children begin to see how to change the ending to form the correct word. So far it looks like a good way to learn verbs because my children are slowly starting to understand. I will be making up more dialogue that we can practice to ensure they use them correctly as we go.
Some things I would like to see improved:
Consistency through the Lesson Plans / Guidebooks. Level 1 was easiest to go through, lessons always started at the top of a page. Some of the time-stamps were confusing as to where to watch to for a lesson. (With the online version supposedly you click on a lesson to watch so you don't have to worry about time-stamps on the DVD)
Organize the Workbook pages in the order they are presented in the guidebooks. Note in the Lesson Plan when each page should be used.
Fix the sticker packets so they don't contain words we didn't learn. Use a different adhesive so they come off of things cleanly!
I'd like to buy more videos with lesson plans and workbooks, but I only see one other workbook available though there are a lot more DVD levels available.
My kids have learned so much from these videos and lessons! The videos are entertaining and easy to follow and learn from. All 4 of my children have learned SO much, and they all enjoy watching and using FL4K. Remember, you can just watch the videos and learn, but the lesson plans add extra reinforcement. When I took Spanish in Jr. High and High School, I remember learning lists of nouns and basic conversation to introduce myself to someone. I've already learned things I didn't learn in school, because this method is an immersion program. I love the way
FL4K
is taught!
My son said to me "I didn't think learning Spanish would be so fun! I thought it would be a boring thing where you had to do homework every day, but this is not like that!"
We are finishing up Level 2 and getting ready to start Level 3 and I want to buy more levels so we can keep learning! My kids love speaking to Dad in Spanish because he has no idea what they are saying. I am amazed at the new sentences they've put together. We will keep using this program and I hope they create more lesson plans for the other levels available!
Where to find Foreign Languages for Kids by Kids: