We have been reviewing a new book,
Smoky Mountains ~ Here We Come!
It is the second book in a growing series from
By the Way Book Series
.
We tried to decide between the book we received and
Florida's Treasure Coast ~ Here We Come!, but chose the Smoky Mountains book because the wildlife in it is similar to the wildlife in our area. Plus, my husband has visited the Smoky Mountains so it gave him something fun to chat about with the kids. There are currently 6 books in the
By the Way Book Series
, with more being written.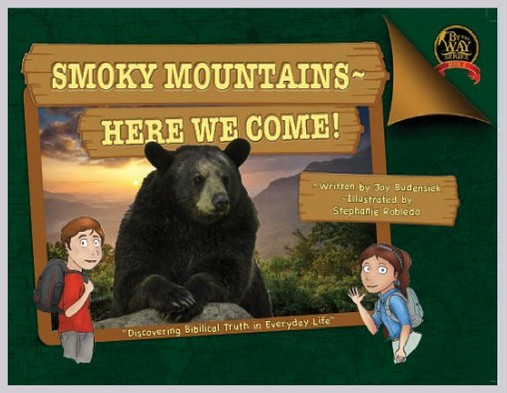 The books follow two children who explore the nature locations they visit, observe God's beautiful creations, and how He is involved in their lives. In the Smoky Mountains book, Lexi and Alex visit their Uncle Ted, a forest ranger who takes them hiking on the Appalachian Trail. The full color, real life photographs draw the reader in and encourage him or her to continue exploring the book.
There are ten hidden animals and objects in the book and my children enjoyed finding them as we read. The book is full of facts, history, and interesting information yet it is written in a way that is easy to follow - a narration of Lexi and Alex's activities. There are other products available on the website such as a poster pack or card pack that share facts and images about the animals in the book, and an activity book.
There are scriptures, a hymn, Christian teachings, and even a prayer included throughout the book, encouraging the reader to "discover biblical truth in everyday life".
How did we use this book:
There is SO much information in this book that you shouldn't expect to read through it all at once! It's neat to see how much they were able to include. There is enough written that children can learn a little bit about various topics, but be encouraged to study more as they find something that interests them. For instance, some things that we were surprised to find in this book are Arnold Guyot, lightning facts, Cherokee language history, geocaching, and more. One of my children was thrilled to find her favorite animal, the otter! We read a few pages at a time and stopped to talk about what we learned. All of my children found new and interesting information that they wanted to continue exploring!
There is so much in this book that we've wanted to read it again and again. The kids also enjoy looking for the pictures hidden in the book. I appreciate that the book helps us think more about God in our daily lives, and give opportunities to discuss His creations and love for us.
This book isn't just for elementary age students, my 8th grader also enjoyed the book. She says the book was very interesting and she learned a lot from it. It's easy to learn from because of how it's laid out. She's interested in finding out more information about certain topics, like the species of butterflies and salamanders located in the Smoky Mountains.
These books are a great way to learn about other states, and I'd like to get some more of them to help my children learn more about our country. By the Way Book Series is going to have international books too, Ireland comes out in April! The author has a goal to write 100 books about the states and different areas of the world. I am impressed with the author, she signed our book as a thank you for reviewing it, and wrote a personal note to me about my own state. I love supporting companies that have a caring touch.
Where to find the By The Way Book Series: