My daughter was excited to review two chapter books that are right at her reading level, and have stories about horses! These books are the latest written by
Susan K. Marlow
, from
Kregel Publications
.
We received
Andi Saddles Up
and
Andi Under the Big Top
. These paperback books are just right for ages 7-10. They are the first two books in the
Circle C Stepping Stones
series, which is part of a larger series of leveled stories. You can follow Andi as she grows up if you start at the beginning. What a great way to encourage children to read.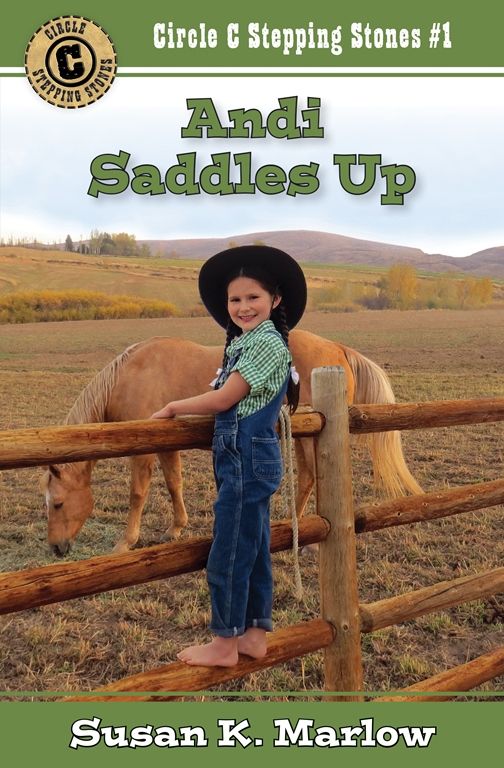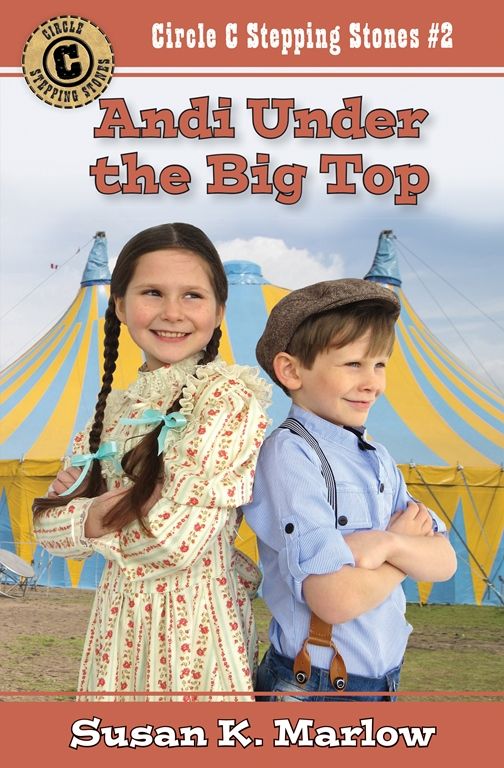 These stories are set in the year 1877 in California. The images don't really correspond with this time period though, so that was a little bit confusing to me.
I asked my oldest daughter, who also enjoyed the stories, to give me a quick overview of the books:
In Andi Saddles Up, her family and the neighbors have an argument over the boundary of their property. Andi becomes friends with a girl named Sadie before she realizes it's the girl's family that her own is in a disagreement with! The girls try to maintain their friendship while the adults argue, and Andi has to learn about loving her neighbors and family, and being obedient. It's an exciting time for Andi, she's finally old enough to ride her horse on her own, and her horse is three and has finally been broken!
In Andi Under the Big Top, the circus comes to town and Andi and her family go to see it. They meet a boy who ran away from home to join the circus and Andi's family befriends him. A woman who performs in the circus realizes that Andi's horse looks exactly like her horse that passed away, and decides she must have Andi's horse! It's a story of being honest and the importance of family.
Susan K. Marlow
has Study Guides available for her books on her website. These include a suggested schedule with reading assignments and activities. There are comprehension questions and vocabulary activities to ensure your child understands what they are reading. My daughter liked the diagram of a saddled horse, she was able to learn many things she didn't know already, such as what the bit is, the cinch, and the conchos. Children will study literature terms to learn about similes, poetry, and imagery. The study guides also touch on geography, character building activities, bible verse, and recipes, providing plenty of extra activities to help the reader understand Andi's world and their own.
There are hand drawn images through the books that enhance the story. These are available to download as coloring pages on the author's website as well. You can purchase a lapbook to help your child record what they learn while reading. Be sure to check out the Literature Bundle which includes the books, lapbooks, and the activity packet all ready printed and set to use!
My third grade daughter likes these books so much that after she read them, she began reading them to her younger sister. These two have gotten into the habit of playing Andi and Sadie every time they go out to play, with stick horses of course!
I did notice in one of the books that Andi is depicted as thinking, "Thank you Jesus!" That is not something my family would say, we would direct a silent prayer slightly differently. The books are very appropriate for children and show good morals, and not something I'd hesitate to let my children read.
These books are fun to read and teach great character traits. All of my girls enjoyed them, despite their ages (my son wasn't interested, but there is a series available for boys!) Reading them alone, your child will gain confidence and build skills. Combining them with the optional study guides and activities will allow your child to begin studying literature in an engaging way. Check out the other levels in the series too because these are a fun way to get kids excited about reading and studying literature. In fact, since receiving these to review, I've already purchased another level of Andi books for my oldest to read! We can't wait until the rest of the Circle C Stepping Stones series is finished!