My youngest child
can't wait
to grow up and be a mother. I love seeing her enthusiasm, so I was excited to review with her the book
I'd Rather Be Your Mommy
from
Home School Adventure Co.
Home School Adventure Co. gave us a digital copy of the book
I'd Rather Be Your Mommy
, plus the
I'd Rather Be Your Mommy Coloring Book Edition, and the I'd Rather Be Your Mommy Print Set. These came as PDF files that we were able to download to the computer. I transferred the book to our tablets and printed one image from the print set on photo paper. There is a hardcover edition of the story book available, and pre-printed prints as well. The coloring book is digital only.
As soon as I had the book downloaded, my kindergartner wanted to read it right away. She loved it! Then, she wanted me to print the entire coloring book. Of course, she started coloring immediately. She has asked us to read the book to her repeatedly, and her siblings have obliged. She almost has it memorized now! The hot air balloon print hangs on her bedroom wall.
This book talks about daily life with a baby, and shows images of mothers with their babies and young children. The images are photographs with some type of digital effect that smooths out the details. It looks different at first, but this effect was a good thing for us... my daughter was easily able to color the coloring pages to look exactly like the book when she chose to! The coloring book contains the same pages as the story book. There is a nice addition to the back, thumbnails of the full color pages. The 3 digital prints are 11" x 8.5" pages from the book.
The book talks about difficult parenting moments, like getting up in the middle of the night or washing clothes after explosive diapers, and then says that it's all okay because being a mother is the greatest job in the world. It's so true, every moment is worth it. There are fun moments portrayed too though! The book includes a page with Psalm 127:3, "Children are a gift from the Lord." It quotes from the NASB so it's slightly different than the KJV we are used to, but it encouraged us to refer to our KJV bible and read Psalm 127, which is a beautiful tribute to families.
There are also many pages that show a woman working or adventuring. Each page says that the narrator would rather be a mommy.
Pages didn't fit on most of our tablets.
We encountered some issues viewing the digital version of the book on three of our tablets. They are widescreen and this book's pages didn't fit on the screen. A portion of the bottom (and sometimes words) or the top was always cut off. We tried PDF viewing apps and the Kindle app with the same results. We had to turn the tablet vertically (portrait) to see the entire page, but then it was much smaller than the screen. I later discovered that it fits perfectly on my children's new shared tablet, the Galaxy Tab A 8", when turned horizontally.
I asked my daughter what she liked about this book. In between coloring pages she told me, "The mama says I would rather be your mommy than be something else, because the mom really wants to be someone's mommy!" That is a great summary of the book, as well as her ambitions in life! She tells me she wants A LOT of babies. She has a doll with her for most of the day, that sits next to her during school, rides in a ring sling, and sleeps with her at night. I know Heavenly Father has blessed her with this desire, and her special gift of nurturing others.
I love the message of this book. Being a mother is such an important responsibility. It's not mentioned in the book, but even women who are not mothers themselves can have a wonderful influence on children around them. My children's aunts are such an important part of our family and always take time to show my children how special and loved they are.
The book does describe jobs a woman could do, and activities she could participate in, but chooses not to in favor of being a mommy. I did discuss with my daughter that if I wanted to I could go dive in the ocean, etc., and being a mother doesn't hold me back from exploring my hobbies and interests. Many mothers DO feel trapped, and I don't want my girls to ever feel that way. I also want my children to keep in mind that what works for our family doesn't work for many others, and just because a mother goes to work doesn't mean her children are any less precious to her.
Being a mother is such a noble calling in life. It is more important to me than being famous, or having a fancy house, or many other things. I am very happy being a mother and hope my daughters will come to feel the same way about motherhood. This book is a cute reminder to me and an encouragement to little ones to find joy, daily, in motherhood.
Where to find Home School Adventure Co: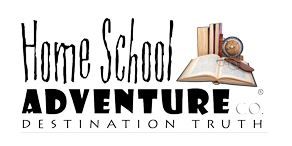 Crew members reviewed other products besides this book such as Creative Freewriting Adventure set, Celebrating Manhood, and Walking with the Waodani. Click the banner below to read reviews for those as well as more reviews for the I'd Rather Be Your Mommy set.