I have four kids, and while they don't have their own devices, they love using our shared devices and playing games on them. We have enjoyed reviewing
Daily Bible Jigsaw
, a family friendly game from
Planet 316
.
(I have distorted the names and pictures of my personal screen shots in this review to maintain the privacy of my Facebook friends.)
This game is free! Though the Google Play Store says the game contains ads, I haven't seen a single one in the game. The only advertisements I found are in the get more coins area. You can buy coins or you can watch video ads to earn coins. I appreciate Planet 316 keeping this game safer for my kids by not using ads they could accidentally click on or view while playing.
Planet 316 was kind enough to add 500 coins to my account for this review so that we could take advantage of all the game offers.
When my husband first used the app he mentioned that the vendor's name was cool. I don't know if they intentionally created a play on words for John 3:16 about God's love for the world (planet).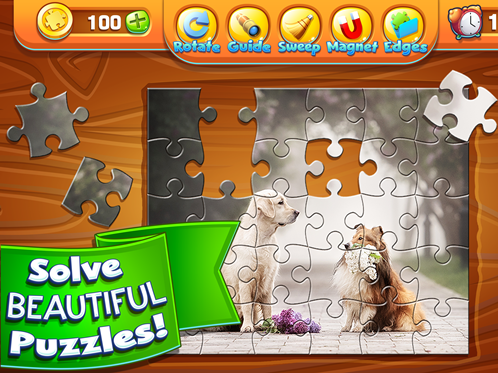 What is Daily Bible Jigsaw?
This is a jigsaw puzzle game. Each day there is a new 30 piece puzzle available, and you can play the
puzzle of the day
once for free. If you miss a day or want to play something from previous months, you can spend 3 coins to do the puzzle. I like that this game has only one puzzle available per day, it is a great way to limit time spent using a device.
There are
bonus puzzles
that you can complete for free as many times as you like. These have smaller pieces, 56 per puzzle.
A bonus puzzle using the Rotate and Edges tools
You can purchase or earn coins. To earn coins, besides watching video ads that I mentioned above, you work towards various
awards,
such as how fast a puzzle is completed and how many puzzles you complete. I had an issue where the awards didn't show up and emailed the developer. He responded, and the problem was corrected. It feels silly to me to complain about a game, but I know the developers want their products to work and he was helpful and polite.
There is a bonus piece in each puzzle that sparkles for a few seconds. If you connect it with one other piece during that time, you earn one coin. When you have two pieces oriented correctly together, they sort of snap together with a sound, so it's easy to tell when you have pieces put in the right place.
If you sign up with a Facebook account, you can see your friend's puzzle completion times. If you are the first one to complete the daily puzzle, you can check back later that day to
compare times
after your friends do the puzzle too. You can also challenge friends who aren't playing. Another screen shows players who complete the most puzzles in a week, called the
Weekly Tourney
. These competitive features only work with the Facebook sign up, not with the email signup option. When you first install the game you can earn coins for connecting your Facebook account.
The game has sounds and music, and I have found the music much less annoying than most games! In fact, it's the one game that I haven't told my children to turn the music off.
Each puzzle has
helps
that you can spend coins on.
Rotate: Turns all pieces to the correct orientation. Locks them so they can't be rotated again.
Guide: Allows a peek at the completed puzzle.
Sweep: Clears pieces out of the work area and places them on the sides of the puzzle.
Magnet: Puts two random pieces together.
Edges: Hides all center pieces. When the edges are all connected, the center pieces reappear.
Once the puzzle is complete, you'll see a bible verse added to the image. These are verses from the NIV and often coordinate with the image. After you complete a puzzle, you can choose to share the picture and verse with your Facebook friends. I like that these are beautiful and uplifting posts.
How did we use this app?
I installed
Daily Bible Jigsaw
on my tablet and phone. The tablet is easier to do the puzzle on, but I was surprised at how easy it was to complete on the smaller screen on my phone as well. My husband installed the game on his own tablet, and then my kids wanted it on theirs as well. I have another Google account I use for my children's shared devices, so they didn't have access to my coins on their tablets. They like to see if they can beat my time, and one of them usually does the puzzle on Dad's tablet to try and beat our times. Because the game only allows one puzzle per day, they figured out that they can touch the replay button and let the next child try. The coins have come in handy to allow all of my children to have a turn each day, and to work on past puzzles.
I did try the game on Facebook, but found that I prefer using a touch screen. Clicking and dragging puzzle pieces takes longer to play. Facebook is still a good way to play though!
The app is fun, and I am not worried about what my kids will encounter in it. It's fun for my kindergartner too, she likes trying puzzles and asks for help from older kids when she gets stuck. The coins are helpful for her, especially the rotate and sweep tools. I especially like the limit of one puzzle per day and feel this is a good way to help kids learn to control digital appetites.
We own Android devices and played this game on different tablets and my phone, all of which access Google Play. Click on the Crew banner below to see more reviews, including people who tried the game on Apple devices. If we're Facebook friends we can compete against each other. Even if we're not, download the app and start playing the game! It's a fun brain break after a busy day.
(Devices used: Samsung Galaxy Tab S 10.5", Samsung Tab A 8", Samsung Galaxy S7)
Where to play:
Connect with Planet 316:
Facebook | Twitter