Two of my children have had the opportunity to review
Digital Savvy
, a computer skills course from
CompuScholar, Inc.
I am quite pleased with the content of this course, there is so much information that it covers! When I was younger it took me many years to learn, through my own exploration, the things this course covers. I often wish I could just plug a cable between my brain and my children's to share some knowledge with them. This course makes learning fun and easy.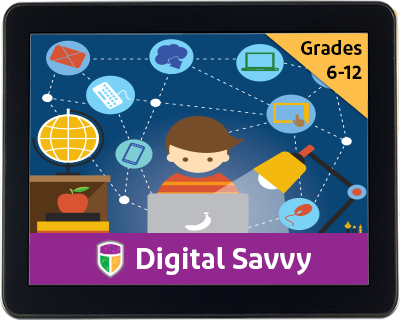 If you recognize the name Homeschool Programming, you are already familiar with CompuScholar, Inc. They were sister companies who sold the same computer science courses to different markets. They have merged and redesigned as
CompuScholar, Inc.
and still have the same great content! Courses are still available for homeschool and public/private schools.
What is Digital Savvy?
The course is designed for 6th to 12th graders who are already comfortable with the basics of using a computer. If your child can use a mouse, keyboard, open programs, and find a website they'll do just fine. They may need an adults help occasionally, so if you are uncomfortable with things such as finding information about your computer's hardware, become good friends with Google or find a mentor who can help. CompuScholar offers assistance too.
This course is intended to help students improve their computer skills and learn to navigate a computer's hardware and software, as well as being familiar with using common software and websites. It is written as a one year (33 week) course and is all online, through the CompuScholar, Inc. website. Your student can move faster or slower as needed as they progress through the chapters and lessons at their own pace. The parent has access to the lessons as well.
It would probably be easier to understand the purpose of this course by calling it an introductory Information Technology class. But take that word introductory, and apply it to a wide variety of computer topics, twenty-five in fact, and then you have this course. It really does cover a lot! Please check out the Course Syllabus on the
Digital Savvy
website to see the full list of topics taught. You'll find things like managing files, understanding and using a variety of software and hardware, networks, digital images and more. There are chapters about internet communication, social media, and web page design with basic HTML. The last few chapters cover more advanced programming, and careers in technology.
CompuScholar, Inc. has provided a Teacher-Led course option as well, if you prefer to have a teacher available to grade projects and provide help and feedback. There are options to pay by the month or by the year, as well as low prices for additional siblings to take the course.
I was thrilled to find that the creators of this course have done some research to see how their course meets
specific state standards
. In my state we can count this course as the middle school Digital Literacy credit, and the website includes the Course standards code to include on a transcript.
The parent or teacher sees the gray buttons, students and teacher see the colored buttons.
My 6th grader J, and my 8th grader M have been using this course 4-5 days a week. It takes them 15-40 minutes a day depending on how much is included in the lesson or activity. Each chapter is divided into lessons, and each lesson has a video, a text, and a quiz. The chapters end with an activity and an exam.
The children have their own login and I have a login as well. I see a little more than the children do, I have a Teacher Guide and a Quiz Answer Key in each lessons, as well as an Activity solution Guide and a Test Answer Key in each chapter. When they kids need help, I can refer to my Teacher Guide, as well as the Lesson Text and Lesson Video that they see.
Assignment grading rubric
Everything is online, and the website automatically checks Lesson Quizzes and Chapter Exams. The Activity for each chapter is a little different though. The children must do some research and work on their own and write a report about what they have done and learned. Then they upload their report, submitting it for me to check. When I log in and go to the gradebook, I can view their assignment and check it against a rubric that automatically creates a score, depending on which box I check in the rubric. My kids had a lot of fun with the very first Activity in Chapter 1. They had to research peripherals and find specific information about the piece of hardware that they chose, then look for help manuals and knowledge bases as if they were troubleshooting. Then they got to unplug it and reinstall the device. How fun! Hands on learning is the best!
Gradebook
This is the Gradebook that allows me to see how the children are progressing. I took these screen shots back when we started the review but the children are in Chapter 5 now and still doing very well! The children are listed first, with Group Average and Overall Average on the lower two lines.
The children have 3 tries to complete a Lesson Quiz, so they can try again, or go back and study to get a better score. They have 3 tries to complete the Chapter Exams as well.
Gradebook final total
The website has many helpful tools for the teacher, there are training module videos and a Professional Development area where teachers can learn more about specific features to each course, as well as the other courses available. I really love that I have access to everything my children do, so I can work through any lesson with them, I can use the Teacher Guide to teach a lesson to them, or I can just refresh my own knowledge. The only thing we wish the site had is some sort of a way for the kids to see which lessons are completed. But we've printed the syllabus and the kids initial what they've finished, so it has worked out just fine.
J says, "I know a lot more stuff than I did before. It's a good course for 6th graders. I like how they do the lessons, they are easy to understand and the website is easy to use. I think I'm going to learn a lot of good stuff by the time I finish. It's nice to know what all the abbreviations are."
M says, "I like the way this course teaches, with the video and the text. It makes the lessons easy to understand. I am learning a lot of important things, like what the CPU and the RAM are, and how to do more things with file explorer and operating systems. I am looking forward to learning about digital images."
M and J have been able to work on this course on our Windows 10 laptop and desktop, as well as on our Chromebook. But when they do activities they follow the lesson exactly and use a Windows computer rather than the Chromebook. The course is designed for any HTML-5 compliant browser, but the hands-on projects require Windows or Mac.
Will we continue using Digital Savvy?
Oh my, yes! This has been a great course, it was very easy for the children to figure out how to use it, and it's laid out in a user friendly way. My kids originally wanted to review the Web Design course, but my son mostly wants to learn to design video games. When I saw the description for this new course,
Digital Savvy
, I knew this had to be the place we started. I told them if they complete this course with a good grade, Dad and I will consider paying for another course for the next school year. I think my son would like the Unity Game Programming (coming soon) or the Android Programming, though Game Programming with Visual Basic is at his level. My daughter is still interested in the Web Design course. You can see all the courses offered at the
course overview page
.
M and J rarely have to be reminded to work on it each day, in fact J asked if he could do CompuScholar over spring break (of course you can!!). They love sharing their new knowledge. From the very beginning they have tried to stump my husband and I with what they've learned...
"Dad, do you know what a supercomputer is and how big it is?"
"Mom, do you know what RAM stands for?"
"Do you know what kind of cable your monitor plugs in with?"
"Mom, do you know what DVI means?"
"Mom, do you know what operating system and version is on your tablet?"
I am proud to say they haven't stumped me yet, but I am also thrilled that they are learning this stuff on their own, and that it is important to them! My kids are learning that technology is not scary and that they can master it from a young age. Technology is the present AND the future and I am so glad we have the opportunity to review this course because I feel like it's giving my kids a great introduction to their digital world.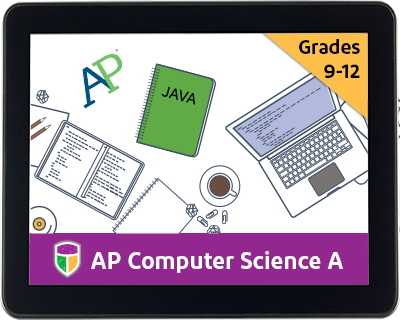 The Homeschool Review Crew was given the opportunity to review three different courses, Web Design, AP Computer Science A (Java), and Digital Savvy. You can find more reviews on the Crew website, through the banner below.
Where to find Digital Savvy: