We love the writing program from
Institute for Excellence in Writing
, so when we were offered an opportunity to review their
High School Essay Intensive
course, we couldn't wait to try it out!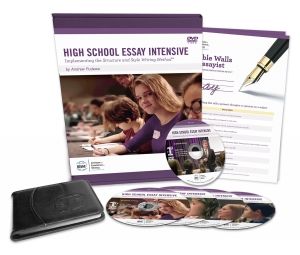 What is High School Essay Intensive?
This DVD course is intended to help a high school student gain a greater understanding of, and confidence in the essay writing process. It was updated in 2016 to align with the new SAT and ACT tests. Students also learn skills that will help them apply for college. Mr. Pudewa teaches this course as a one day seminar, and just this spring IEW released this DVD set to be used in the home.
If you have used the IEW writing program, this course is similar to what you've learned in Unit 8, though Units 7 and 9 also fit the essay model in a slightly different way. This is a seminar just for various essay types, with much more information and college prep instruction.
This course comes in a box that contains a nice leather-looking embossed case of 5 DVDs, one
Portable Walls for the Essayist
, and a packet of student handouts. The handouts can be copied if you have more than one child in your home using the course, and classroom or co-op teachers can purchase multiple copies directly from IEW.
The DVDs come with a paper that tells you how to add the streaming version to your IEW account, very useful when we used our Chromebook (which can't use discs), a tablet, or when you prefer to watch online.
Part 1 is on two discs and goes through instructions for structuring an essay as well as how to add the IEW style methods. Part 2 helps students understand and prepare for the new ACT Essay, and Part 3 does the same for the new SAT Essay. Part 4 gives more strategies for the college entrance Personal Essay. All three parts include questions, prompts, and source texts, where applicable.
The Portable Walls for the Essayist is a three part folder that is covered in useful tips, hints, and information that students learn when using the IEW writing method. It can stand up on the desk to block distractions if needed (my kids like doing this).
How did we use it?
I do not have a high school age child...yet. But I do have an 8th grader, M, who loves to write! She and I have been using this course.
There is no schedule to follow, or suggested days of assignments. You can work through the course as fast or as slowly as you want to, just stop the DVD at a convenient spot and start again tomorrow! This is how M has used it.
M has completed Part one. The course begins with a timed essay! The student chooses from the two prompts in the handout and writes for 20 minutes. As part one progresses, my daughter used the handouts to take notes and has learned some writing strategies. Some of the topics discussed so far have been types of essays, how to plan the length of an essay, how to develop each paragraph, including the TRIAC model, and essay structures. Mr. Pudewa also talks about the Five Canons of Classical Rhetoric, how to think of what to write, and style (Dress-Ups, Sentence Openers, and decorations). Then the student writes another 15 minute essay using their new skills. The student also goes back to their first 20 minute essay and labels sentence openers. We found it helpful to go back over our essay and see where we could improve.
M says, "This is a really interesting course. It's easy to pay attention to because Mr. Pudewa is funny and entertaining, he knows exactly how to keep your attention, and he even teaches how to keep people interested in your writing. When I learned Unit 8 before, Mom easily taught it to elementary and middle school grades, but this course helps me understand essays better because they are taught more in depth, and I learned more writing skills. I feel like I can write better essays now. Most of the stuff in this course isn't new to me, but some stuff is new, and I have learned
more
about the things I already knew."
I have been watching the other parts. Part wo helps the child understand who is grading the ACT, if they should complete the optional essay, how it's scored, how to choose your perspective, how to plan the essay quickly, strategies for writing the essay, and what to watch for as you quickly proofread. Mr. Pudewa outlines an essay, teaching as he goes, then suggests that students practice what they've learned.
Part three helps students understand the redesigned optional essay portion of the SAT. It also covers grading as well as planning, writing, and editing strategies. The book "How to Read a Book" by Adler is mentioned, and Mr. Pudewa explains why annotating as you read is important. When he goes through the essay and suggests what to mark, there is a picture-in-picture box showing a person marking their papers.
I love how IEW seminars let the student SEE and not just HEAR what to do, in this course that happens with the practice outlines, note taking, and annotating. Practicing the essay is suggested again, as well as how to use the time.
Part four is about writing a Personal Essay for a college/university application. This is similar to the above two, but instead of discussing how it's scored he describes how to showcase yourself to impress the admissions staff. The students write their choice of one of the essays previously discussed. Mr. Pudewa gives students some helpful advice on the future at the end. I like this part, my kids absorb everything he says and if that remains true when they are nearing the end of high school, this little portion will really help them out!
Will we continue to use this course?
I love that the first two DVDS, Part 1, are for learning to write essays. I am going to try using those two DVDs with my son next year, who will be in 7th grade then. He'll be on his 3rd year of using Institute for Excellence in Writing methods, and I feel like watching these DVDs will give him an opportunity to hear from someone other than Mom (he LOVES listening to Mr. Pudewa), and will help him refine his writing skills. Of course I'll have M use these again when we get to Unit 8 next year.
I am going to have M use Part 2-4 next year so she can practice as she prepares for the SAT or ACT test. The more practice she has writing essays, the better prepared she will be when she takes the test. Using this with a child in 10th or 11th grade would help them prepare for the tests in the spring. Someone that age would be able to work through the course more quickly than we chose to, and it would be so helpful to them!
I'm really glad we got this course when M was in 8th grade because I can see that it will be beneficial to us for many years as we use it to improve our essay writing, and later as we prepare for college.