We live in a digital world and knowing how to navigate that world is vital. Children are using technology at younger ages than ever before. Learning how to type is an essential skill that will help children be successful. We have been reviewing
The Typing Coach Online Typing Course
for about six weeks.
The Typing Coach
has provided a unique method to teach keyboarding skills that I haven't encountered anywhere else!

There are so many typing courses and games available online that it's hard to know which one to use! Some look more like play time than learning time. Many look more like busy work than skill building, and The Typing Coach agrees... why have students type something out that is already on the screen? I've watched M and J use other typing programs. They look from their hands to the screen. It got to the point that I was tired of reminding them not to peek, so I banned the other typing courses. They weren't very happy with that, but I just didn't know what to do other than wait until they were older and took it more seriously.
The Typing Coach Online Typing Course
takes a unique approach to typing instruction - auditory learning. David Kimball is a teacher and designed this course for his students. It is now available online for anyone to try his unique method. He guarantees success if you follow his instructions! You will be able to type without looking at the monitor or keyboard, and after working through the course you will be able to type 10 wpm with no more than one error per minute. Continue practicing this method and you will progress to 45+ wpm! I like this page where Mr. Kimball describes
Why The Typing Coach is Better
.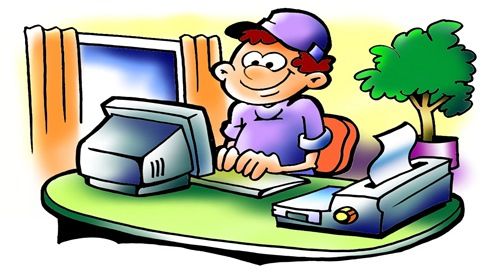 How does it work?
After you enroll you'll find a screen full of sections to work through. Be sure to start with the Course Introduction - read and watch the videos and print the Student Packet and Learning Checks. Explore and read the Teacher Resource Center. I started to feel overwhelmed at the amount of information here, positive that with so many instructions and helps I was going to have the kids doing something wrong because I'd surely missed something. There are multiple videos of it being implemented in a classroom, and between the tutorials and printed materials I started feeling more confused than not. But I persevered!
The beginning exam:
I gave my kids the Student Packet and Learning Checks, explained how I understood this was going to work, and introduced my two older children, J and M (who are in 6th and 8th grades and have used other typing courses for two+ years), to the Practice and Testing Center. They must create a login here, and I have my children use my email address so their reports are sent to me. Then they completed the Before and After Snapshot, which gives you and the student an idea of where they are starting with accuracy and speed. They are timed for three minutes and type as much of The Gettysburg Address as they can, looking at the papers they were given, and not at the keyboard or screen.
My 3rd grader has not done any typing before, so I didn't have her attempt this before snapshot.
3rd grader demonstrating good posture. We added the foot rest so she wasn't tempted to wiggle her feet or sit on them.
The lessons:
Now they can begin the real lessons at a pace they are comfortable with. The Typing Coach begins with good posture. There is an entire lesson, including audio on this. The course is intended to be used at a pace of a lesson per week, but my children went slower than that so they could feel confident that they were nearly perfect. After about 6 weeks, all three of my children are on the fourth lesson.
There are multiple parts to learning each section. First, the student must be signed in to the course. They should also have a word processor open. The student clicks play on the audio for what they are learning. Then the student brings up the word processor screen. The audio is so neat! It tells the student which finger is on which key, and instructs them similar to this: "The left pinky finger is on the letter a. Type the letter a." It moves through all the keys on that row, and then mixes them up. There are stretch breaks and posture reminders during the audio lessons.
Younger students:
Here's where it gets even more helpful. The regular course is for ages 12 and up. But The Typing Coach has created additional slower paced audio and a packet for kids 8-11 years old! My 3rd grader is learning to type, and she's very accurate so far! It is suggested that this younger age group is allowed more errors, but most of the time she's been perfect! The younger lessons cover home, top, and bottom rows. It is suggested that this age group completes the slower lessons two or three times per year, and that you should not expect mastery at this age! But as long as they are following instructions, you will see progress.
The Student Packet:
After listening to the audio, they turn to the practice page for the lesson they are on. There are instructions and tips, and the child lowers the laptop lid or turns the monitor off and types the practice lines shown. Then they can check their own work and see how they are doing. There is a set of practice pages for the younger children too.
The Learning Checks:
Once your child feels they have mastered the lesson, they go to the Practice and Testing Center and complete a Learning Check. This testing center is pretty neat, the student picks which test/learning check they are doing and the duration. There is a box to type in and the timer begins when they push the first key. After the time ends, a report shows their words per minute and their errors. This report is also emailed to me, I asked my kids to do that so I could see their progress as well. If the child gets more errors than allowed, they are not able to use the testing center for 2 days so they have a chance to practice with the audio and student packet before testing again. My kids practice with the audio a lot, they want to be sure they're perfect by the time they do a Learning Check!
Older students can progress to the next lesson when they have no errors on a learning check, and younger students are allowed one to two errors per line depending on their exact age. In fact, I don't know that the younger group should use the learning checks, but my daughter wanted to and is doing well enough that I thought it would be beneficial.
The Incentives:
There are tickets and a progress chart included in the downloads, and incentives are mentioned in the audios, especially the slower paces lessons for younger students. Decide ahead of time what you will be doing for this and explain it to your children so they know what system is in place in your home when they hear The Typing Coach mention it! You could skip incentives if you choose and explain that's what works best in the classroom. Some children may be motivated enough by seeing their typing improve.
Our Thoughts:
We NEED good typing skills because M and J like to type out final drafts of writing assignments, and we all type geography reports throughout the year. J very likely has dysgraphia. When his hand tires of writing, nobody can read his work. His mind goes MUCH faster than his pen, so tired hand happens within 5 minutes of beginning school each day. E is just getting to the point that she wants to type writing assignments and her own reports. I want my kids to be comfortable and confident with a keyboard and this method is finally helping accomplish that.
I would like to see the instructions for implementing the program be simplified so it doesn't feel so overwhelming at first. Once we jumped in and began it felt easier, but I still wonder if we're using it all correctly.
I am so impressed with this method. It's unique and it
really
works! My kids are making progress and typing instruction feels productive now. The Typing Coach came to us at just the right time. It is exactly what we needed; this method accomplishes what other methods cannot - automaticity, accuracy, and confidence.
After completing Home Row, J (6th) told me that he's glad we're reviewing The Typing Coach because with other typing programs he was just stumbling through, but now he KNOWS where the keys are and can use them correctly.
E (3rd) says, "It's fun and easy because it's broken into parts and he tells you what finger should tap on each letter and he has you do it. The Typing Coach is funny to listen to sometimes too, he tells jokes. At first I got a couple of fingers wrong, but I am learning a lot and I get better when I practice every day."
M (8th) says she likes it, A LOT. Because now she can type without looking at her fingers. She feels she's getting faster, and more accurate. She wishes some of the audios were shorter though, some are around half an hour long.
You can enroll yourself or your children in
The Typing Coach Online Typing Course
for $17 per person per year.
Where to find The Typing Coach: