Last year we discovered the great products
The Pencil Grip, Inc.
has available, so when my kids heard that they were coming out with a new size paint stick, they begged me to buy them! We were lucky enough to get to review the
Thin Stix 6pk of Classic Colors
, but the kids had to practice a little patience while we waited for this review item to arrive.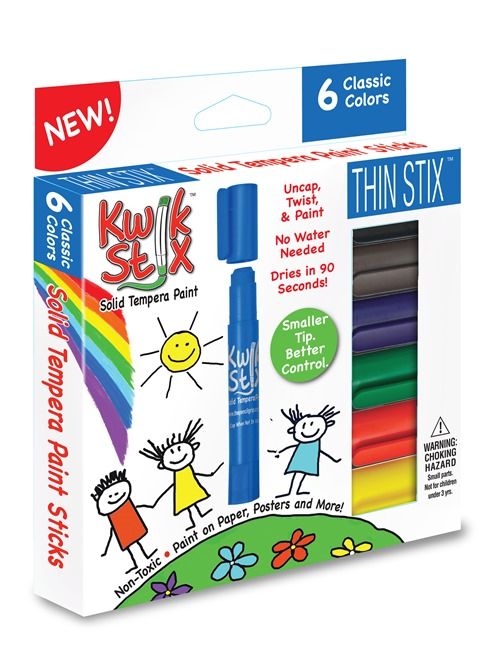 Thin Stix are a new size of solid tempera paint stick. They dry in 90 seconds and can be used on a wide variety of surfaces. They are cleaner than traditional paint, you don't need to worry about cups, water, or brushes. I don't even make my kids wear art smocks when they use these! They wash off of skin easily, and though I don't think it's recommended to get them on clothing, if your little one somehow does and you treat it right away, they wash out fairly easily!
These new Thin Stix are longer and thinner than Kwik Stix, which allows you to paint smaller areas or include more detail. They work the same way a glue stick does, just pop the cap off and twist the stick up. You can read our review of
Kwik Stix here
if you haven't heard of these nifty little art tools before.
We use these for so many things in our home! They are great for quick art projects, but quality enough to use for larger or more in depth projects as well. We've used them on art paper, construction paper, copy paper, wood, egg cartons, and poster board. Some crew members have mentioned using them with good results on canvas and rocks! I like that they dry quickly and don't flake off the paper. Finished projects look nice and smooth, no brush hairs or glops of paint!
E used them to paint a paper wallet that she made. She used a couple of Kwik Stix colors and some of the new Thin Stix as well. I didn't include a picture, but she painted craft sticks with the Thin Stix and glued them around a jar to make a flower vase for Mother's Day! She got the idea from a subscription email that The Pencil Grip, Inc. sent out recently.
N used them to paint her mountain for the "mountain range" we quickly assembled when we had a lesson on the Lewis and Clark Expedition.
My son finds Thin Stix more enjoyable to use than crayons... he's not a fan of coloring, but he likes painting.
Thin Stix come in 6, 12, and 24 count packages, and a variety of colors such as classics (what I reviewed), neons, and metallics. The 24 count Creativity Pack contains all of the available colors, with no duplicates! The paint sticks seem to last a LONG time, even with my youngest using them frequently. All of my kids, from kindergarten to middle school love using them.
M says these are fun and easier to use because they are thinner; they were easier to "color" with.
J says Thin Stix are not as messy as painting, and it you can get ready to paint quicker because there isn't any need for brushes, water, and smocks. You just get them out and uncap them.
E says they are easier to paint with than normal paint because you have less to get out, and they dry quicker. And they are fun!
N says they are easier to paint with and you don't have to fill up a cup of water.