As a busy mom, I like finding tools that help me teach my kids.
MarshMedia
is a company that produces health education programs for use in schools, but is reaching out to the homeschool community to share their videos with us. We got to review the streaming videos available through their
Homeschool Special
, and I found them to be a helpful way to teach my kids good grooming, safety, and health information. It's always nice to hear something from someone other than mom, and it helps reinforce what mom has said!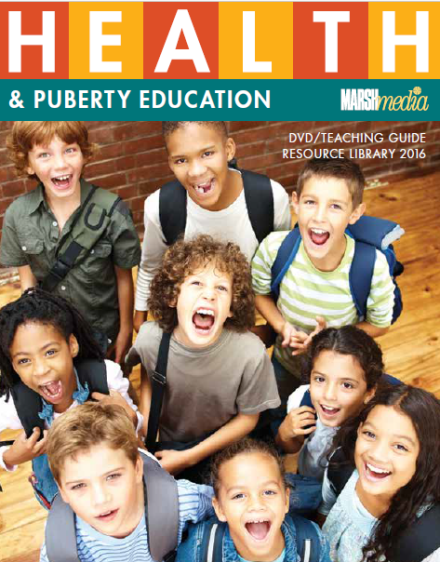 MarshMedia
allowed crew members access to their 59 videos, which are created for K-8th grade children. They have health education videos available in a wide variety of topics including caring for the body, health and safety, nutrition, lice, hygiene, and puberty. They also have a series of character building videos and a section about puberty and social skills for special needs children.
How the website works:
You can brows the MarshMedia website and find titles that interest you. There is a paragraph that describes what the video is about, a trailer, what grades it is intended to be viewed by, and a button that says "Streaming Options." The streaming videos are what we reviewed, though there are printed materials and DVDs available on the website as well. I found it easier to click the Streaming Options button and explore the available videos there, rather than search the entire website. However, every single streaming video available is listed in the Homeschool Special linked at the bottom of this review. The streaming page also includes the description, length of the video, and a ratings section. The videos are in HD.
Our thoughts:
These videos are a nice length, averaging about 15 minutes each. My kids were entertained, and have talked about things they learned in them. My 3rd and K age girls watched a video about caring for teeth. It was nice to get some info from someone other than mom, but they noticed that the video taught to brush the teeth in a different way than the hygienist at the dentist taught them (in circles).
A video titled "Keep it Clean!" talked about various things we need to do to care for our bodies. It presented everything in a comfortable way. Changing underwear daily, washing the body regularly, and more things were talked about. Yes, you have to tell some upper elementary and middle school kids these things! It mentioned getting piercings, but only showed multiple piercings in an ear. It did advise children to only have it done by a professional.
I watched a couple of the puberty videos and they were presented very nicely. There are drawn images of the body, similar to what you'd see in a human biology book, and some videos also contained digital drawings of the reproductive system. Topics were taught in an clear way. They covered a wide range of events and questions about puberty. After watching them myself, I decided to watch one with each of my three older children on our "mom and me talk night". These are nights where we talk about anything and everything, so my kids already know everything these videos taught, but it was a great reminder and got them thinking about what else they might want to ask me. Using these videos at home provides a much less embarrassing environment for these important topics to be discussed, as opposed to the dreaded maturation day in 5th or 6th grade classrooms!
The character building videos were great for my younger girls. They became engaged in the story lines and learned ways to deal with bullies. They also learned good manners.

My son chose to watch a video intended to be for school faculty about how to be prepared for a school shooting. He is curious because he remembers lock-downs from many years ago when he attended public school. I watched with him and we had some good discussions afterwards about safety.
I can see these videos being helpful to homeschoolers and a good addition to lessons. There are videos that are helpful in understanding how to care for the body and keep it clean, the immune system, the basics of reproduction and fetal development, and of course changes during puberty. All children have experience with cuts and scrapes, the blood born pathogens movie is presented for elementary age children to learn safety. All of these videos have good information, and can add to regular discussions that parents have or may want to start with their children.
MarshMedia has created a special offer for any homeschoolers interested in their videos. You can read about it and see the videos offered through the info below.
If you wish to take advantage of the opportunity to introduce the MarshMedia curriculum to your home school students, click on the link below for more information.
Where to find MarshMedia: