My kindergartner loves to use the little bit of Spanish that she knows, so when I told her she had the opportunity to review the
Educator's Spanish Collection
from
Whistlefritz
, she couldn't wait to get started! This curriculum is designed for pre-K and early elementary age children, but my daughter who just finished 3rd grade enjoyed using it too. Even the middle school kids participated in some of our lessons without being asked!
This collection is FULL of tools to help your children learn Spanish. We received:
A 277 page Lesson Plans book. This contains 40 lessons that are written so the parent or teacher can see the vocabulary to learn, the materials needed, and how long a lesson should take. The lesson is written with dialogue in Spanish and English so the teacher only needs to follow the written plan. There is a Guided Practice section where the children do an activity using dialogue they learned in the lesson. Some of these activities are included on pages in the book that you remove and color. Some are outside activities, like finding pictures of food in a magazine. An Independent Practice section gives ideas for more ways that the children can put their new words to use.
5 DVDs. I love watching these!! They remind me of our favorite ASL videos, but with more conversation.
3 Music CDs. Full of catchy tunes that we enjoyed learning to sing along with.
Matching Cards game. The deck has 50 cards in four different colors, so you can use only one color at a time for younger kids to play games with, or use them all for older children.
Extra downloads. Free on the website. There are downloads that include lyrics and vocabulary to the songs on the CDs and DVDs, color pages for some of the activities in the lesson plans book, extra lesson plans, and flashcards and printables for those extra lessons.
The nice part is that you can use everything together, or you can use some parts. But when you use all of the components, the parts complement and reinforce each other. Everything works together to provide an immersion program for the children to learn the language and get lots of practice using it!
How did we use it?
The very first lesson teaches introductory dialogue, "Hello, my name is." "What's your name?" "How are you?" and how to answer. The children make a paper bag puppet that they can make talk. This was SO fun for my daughter, and she used it throughout all of the lessons. She would converse back and forth with her puppet, or have it converse with me. I was pleased to see she was quickly learning both sides of the conversation. Sometimes she would use it to repeat what was said in the videos.
One thing that I found difficult about the
Lesson Plans
is the Spanish dialogue. I have some experience with Spanish, and I can read it, but hearing it spoken is a better way to ensure I'm pronouncing everything correctly. So reading the Spanish portion of the lessons was hard, I'd practice aloud before talking to the children to make sure I had it all straight in my head. This part of the Lesson Plans would be difficult for someone who doesn't know any Spanish, even though the book is laid out so that that person could teach this.
The
Lesson Plans
identify when the
videos
or
CDs
should be used to supplement the lesson, but they only say what scene to watch for and which video it is on. It would be much easier if the
DVDs
were organized by chapter so I could just skip to the appropriate one.
The
activity pages
and suggestions in the lessons were always fun for my daughter. After learning colors and counting (she already knew how to count), we used the color printout and fish crackers to sort, identify colors, graph, count, and eat while using Spanish sentences for everything we did! Another favorite lesson was learning the rooms in a house and what goes in the kitchen.
The
matching cards
have verbs on them and the children take turns turning over matching pairs. There is a picture on them so they can figure out what the word means, and it is also written in Spanish. We had fun acting them out when someone got a match. We also would pick a card, act it out and say the Spanish word, and see who could guess the English meaning. I hope to keep this game up so the children can guess what is acted out in Spanish.
My kids enjoyed watching the
DVDs
. There are adults and children shown speaking in Spanish so it's easy to learn correct pronunciation and sentence structure. The woman asks questions, and the children answer. She repeats the answers in a complete sentence. My kids were encouraged to answer with the kids on screen, and repeat the sentences and words. In addition to the live actors, there are fun animated portions. By the way, the mouse in the image below is Fritzi, and he's frequently found in the songs, videos, and lessons!
There are words on the screen for specific things being taught. You can turn captions on in English or Spanish. Words are repeated in sentences and alone so the child can figure out what is being taught. My daughter especially liked the humor included, when the animals say the wrong sounds, or when Fritzi is hiding in the room.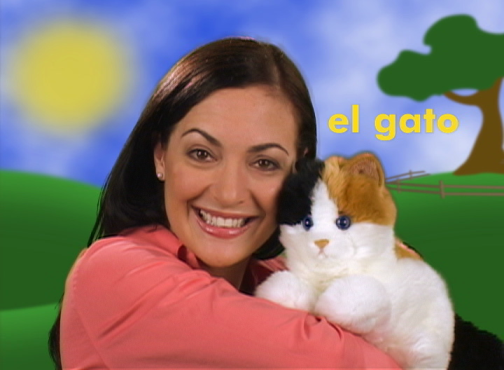 The
CDs
include many of the songs found on the
DVDs
so you can listen to them and practice singing along. They also have many more songs that are interactive so kids can really get into the music and learning! You can see the singer on some of the DVD songs. The tunes are catchy and fun to sing along with. I find myself singing "Frutas, frutas, frutas..." often. But that's not bad, I can make sure my kids understand the times of day and fruits in the song, plus we can substitute other foods to sing about!
I love this entire set. There are a lot of components to it, but they are all helpful! They all ensure the child is immersed in the language they are learning, and there are enough materials available that they create quite a variety of ways to learn, even when repeatedly teaching the same lesson or watching the same video. This truly is a complete set!
N says, "This is a really fun way for me to learn Spanish. My favorite video is La Fiesta de Fritzi, and my favorite song is the one where the boy that sings is at Fritzi's window with flowers and Fritzi peeks out. My favorite parts are the games and activities that we do in the lessons. I think my friends would like to use this Spanish, it's better for kids like me (meaning as old as me)."
In addition to our
Spanish Educator's Collection
, Whistlefritz also has an
Educator's French Collection
. Check out the reviews by
other crew members
to see what they have to say about the Spanish and French sets.
Where to find Whistlefritz: