Recently, we were given the opportunity to review the
Thin Stix Creativity Pack
from
The Pencil Grip, Inc.
We love Kwik Stix, and have reviewed them before. They have become a staple item in our home! My kids were really excited about this new pack.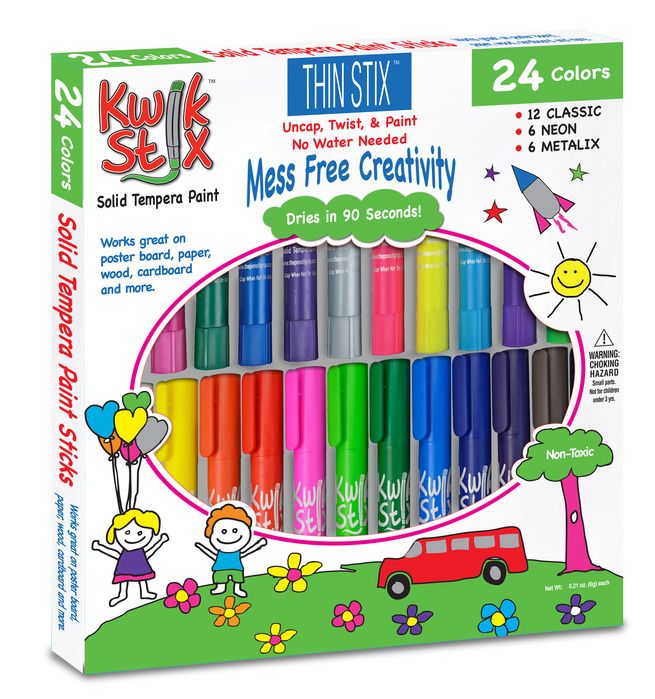 What are Thin Stix?
These things are neat, they are solid tempera paint in a tube that you can twist the end to use; think of a glue stick but filled with paint. They dry in 90 seconds, and can be used on a variety of surfaces. My favorite thing about them is that they are not messy! Using liquid tempera paint with children can be a stress inducing experience, but using
solid tempera paint sticks
from
The Pencil Grip, Inc.
is much less stressful! I let my kids paint without their "paint shirts." If paint happens to get on a desk, it easily wipes off. We did a
laundry test the first time we reviewed Kwik Stix
.
These thinner paint sticks hold .21 oz. of paint (regular Kwik Stix hold .35 oz.). We took a picture comparing size the first time we
reviewed Thin Stix
. Thin Stix are great because they allow more detail when painting.
The best part about the Thin Stix Creativity Pack is the amount of colors it contains! There are 24 paint sticks, and they are all different colors. You get the basic colors of white, yellow, orange, red, pink, light green, dark green, blue, indigo, purple, brown, and black. But you also get six neon colors (pink, yellow, blue, green, purple, and orange) and six Metalix colors (purple, blue, green, pink, silver, and gold). The neons add to the rainbow of color, and the metallic colors shimmer as though they have really tiny bits of glitter in them.
How we used the Thin Stix Creativity Pack:
Of course there have been a lot of pictures painted, my girls LOVE all the new colors! The Metalix and neons make a great addition to the basic colors. This 24 pack is our favorite set of solid paint sticks so far.
My youngest was learning about fractions, and she had to color a square in fourths. We started with crayons, but soon remembered the Thin Stix. Those are much faster and funner to use. She also uses them to practice spelling words.
Because it is October, we had to try them on pumpkins. Pumpkins are not smooth, so it was hard to get the color to look solid, but the paint stayed on! My daughter attempted to paint the moon in a dark sky below, but the black didn't cover much, so that's it. You can see the sun on the left.
It did take a little longer for the paint to dry on the pumpkin.
These are just a few of the ways we have used Thin Stix. What other ways will your family come up with?
Be sure to check out other crew members' reviews at the banner below. You can find the Thin Stix Creativity Pack on
The Pencil Grip, Inc.
website and also at
BJ's Warehouse Stores
(in store and online).
Where to find The Pencil Grip, Inc.: